Introducing Phrazor: Everything you Need to Know About This Smart BI Tool
Data has become an instrumental element of organizations. Businesses large and small have started to consider data as a key business asset that can be leveraged to drive strategy. They harness data to find new customers, predict sales trends, increase customer retention, improve customer service, manage marketing efforts, and eventually make better-informed business decisions. Very soon, it would be practically impossible for an organization to do business if it is not fully data-oriented.
Companies across industries use emerging technologies and tools to extract value from their data and improve business processes through data analysis. They use visual dashboards and business intelligence solutions that analyze the data and present insights in the form of charts, graphs, tables, and visualizations. The businesses that have adequately invested efforts, time, and resources in such solutions can obtain competitive advantages.
But, when it comes to investing in business intelligence and data analytics tools, businesses often face the following challenges:
The charts, graphs, and visual representation of data within the dashboards are interpreted differently by different users. Hence, business users and managers often get lulled by a false interpretation of data.
Charts and visualizations do not give the full picture, and decision-makers need to do a lot of guesswork and research while utilizing the analyzed data.
Inter-relationship between different data points and deep insights cannot be communicated using charts and tables. You need to have the expertise to decipher them.
The insights generated from BI tools and dashboards give an overview, but fail to answer specific questions. They only tell you "what" is happening, but they do not tell you "why".
Moreover, further analysis is required for business users and analysts to arrive at business decisions.
To take the guesswork out of data analysis, businesses require tools and solutions that can give a complete view of their data and empower teams to get access to intelligent insights, regardless of their level or skill set.
Introducing Phrazor
Phrazor, our self-service Business Intelligence platform turns input data into visualizations and narratives.
It uses Artificial Intelligence and Natural Language Generation technologies to analyze and summarize complex data into a few bullet points, and highlight key actionable insights for data-driven decision making. Phrazor enables business users and analysts to transform data into insightful stories and reports in just a few clicks.
Phrazor Simplifies Business Intelligence and Analytics Through Insightful Stories
Phrazor leverages the power of Natural Language Generation and visual analytics to automatically turn data into written narratives in plain human-like language, supported by interactive visuals.
It takes out the grunt work by providing data stories that use words and visuals to lay out context, reveal hidden insights, and recommend actions. It shares a single source of truth and empowers all kinds of users, from novice to experts to stay on the same page, thereby eliminating the risk of data misinterpretation
With Phrazor, you can:
Transform complex datasets into simple yet dynamic language-based narratives
Ask questions to your data and get answers in real-time
Explore patterns and hidden insights in the dataset
Collaborate with your teams and share reports
Speed up report generation by using pre-built reporting templates
How does it work?
Key Features that Make Phrazor Unique
1. Ability to communicate insights in natural language
Automatically generate insights in natural language —so you never have to interpret the story your data is trying to communicate.
2. Self-service Capabilities
Create an interactive dashboard by selecting your data, answering a few questions to auto-generate summarized insights and reports, all in a few clicks.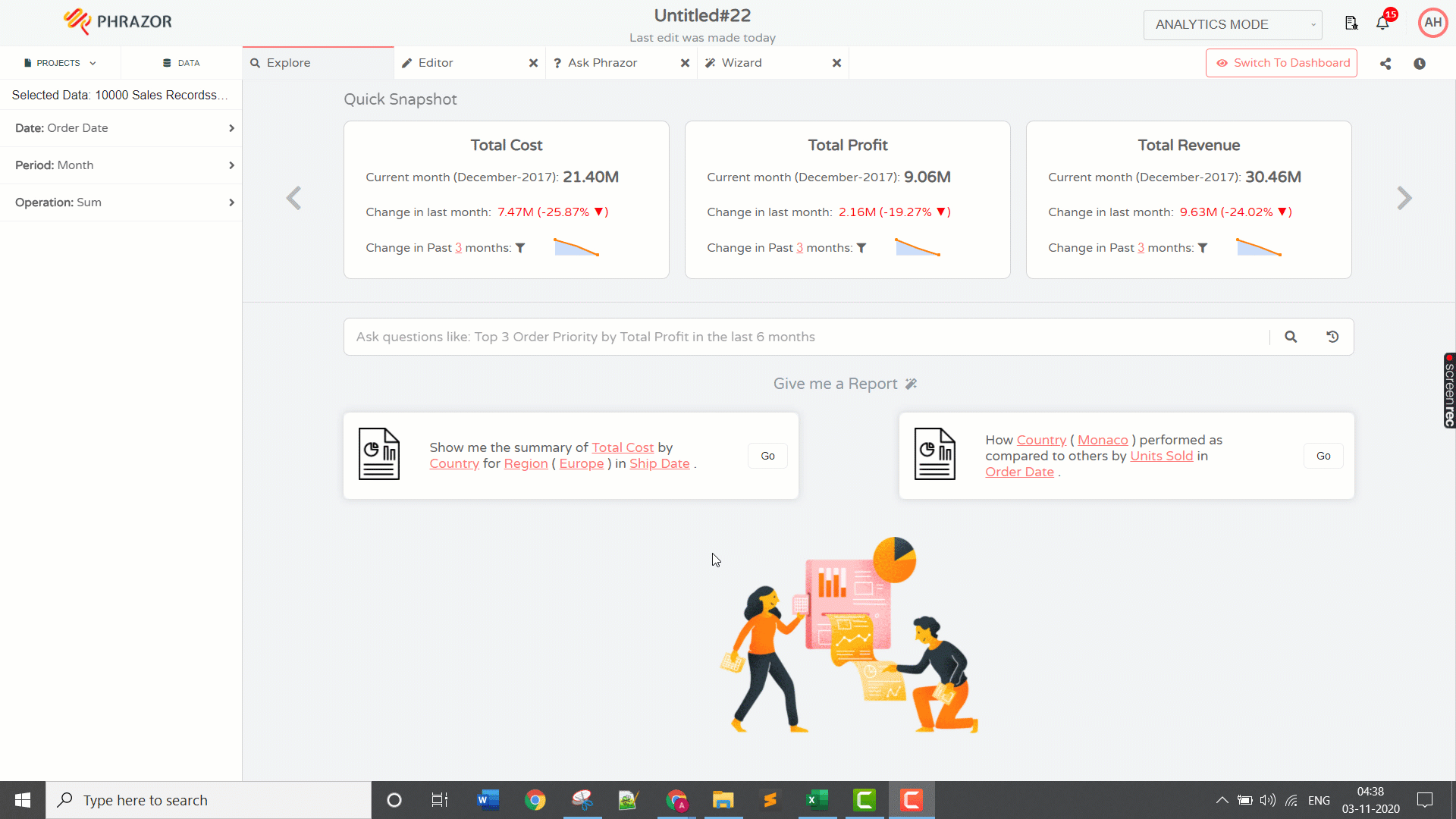 3. Customized Reports at Scale
Automatically generate easy-to-understand, cohesive reports that can be personalized to meet specific business reporting requirements.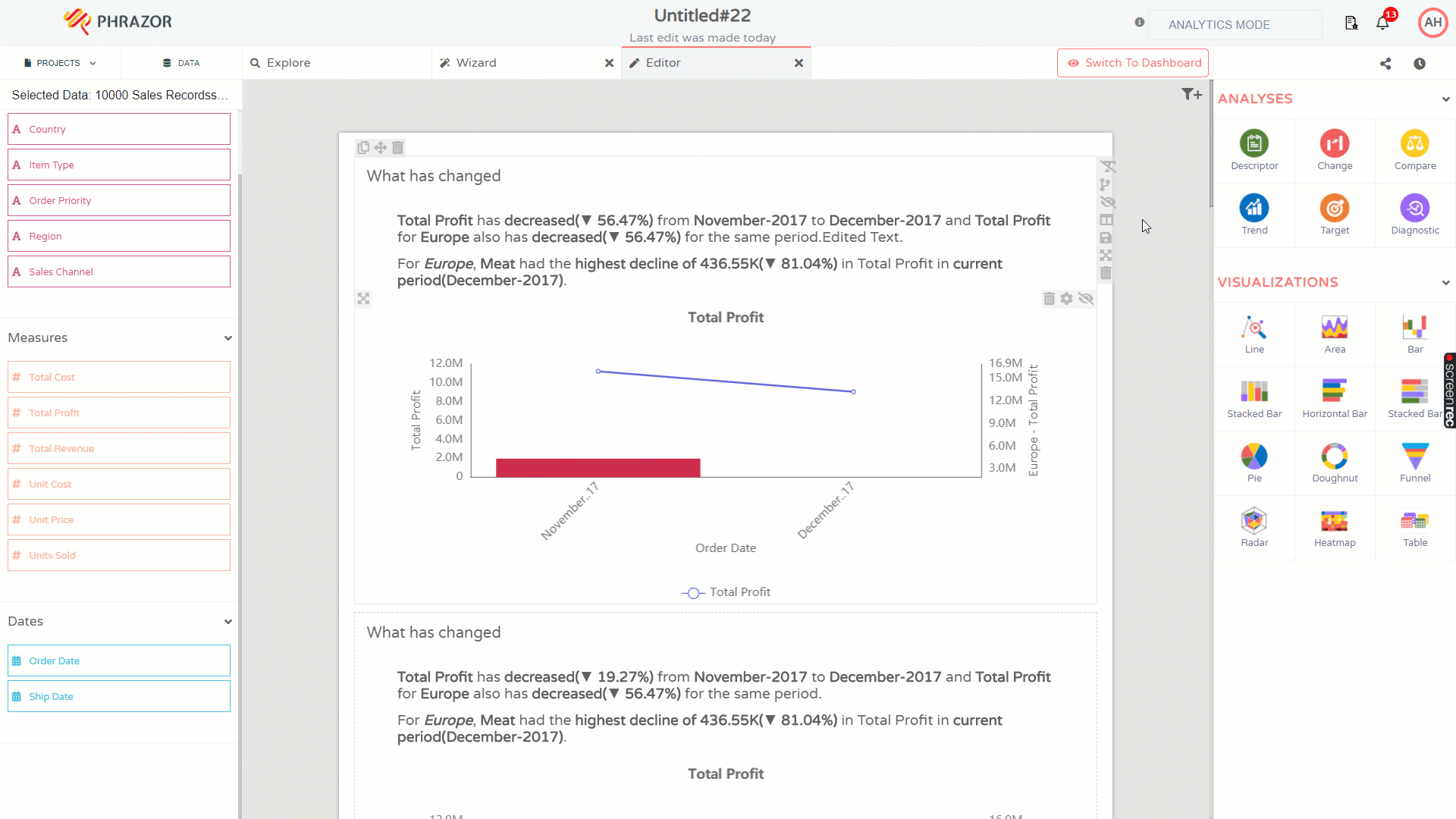 4. Easy Data Integration
Integrate your data and connect to multiple data sources and files (CSV, Excel, Image, Text, JSON, XML, Databases, FTP, API or URL) on-premise and on the cloud, securely.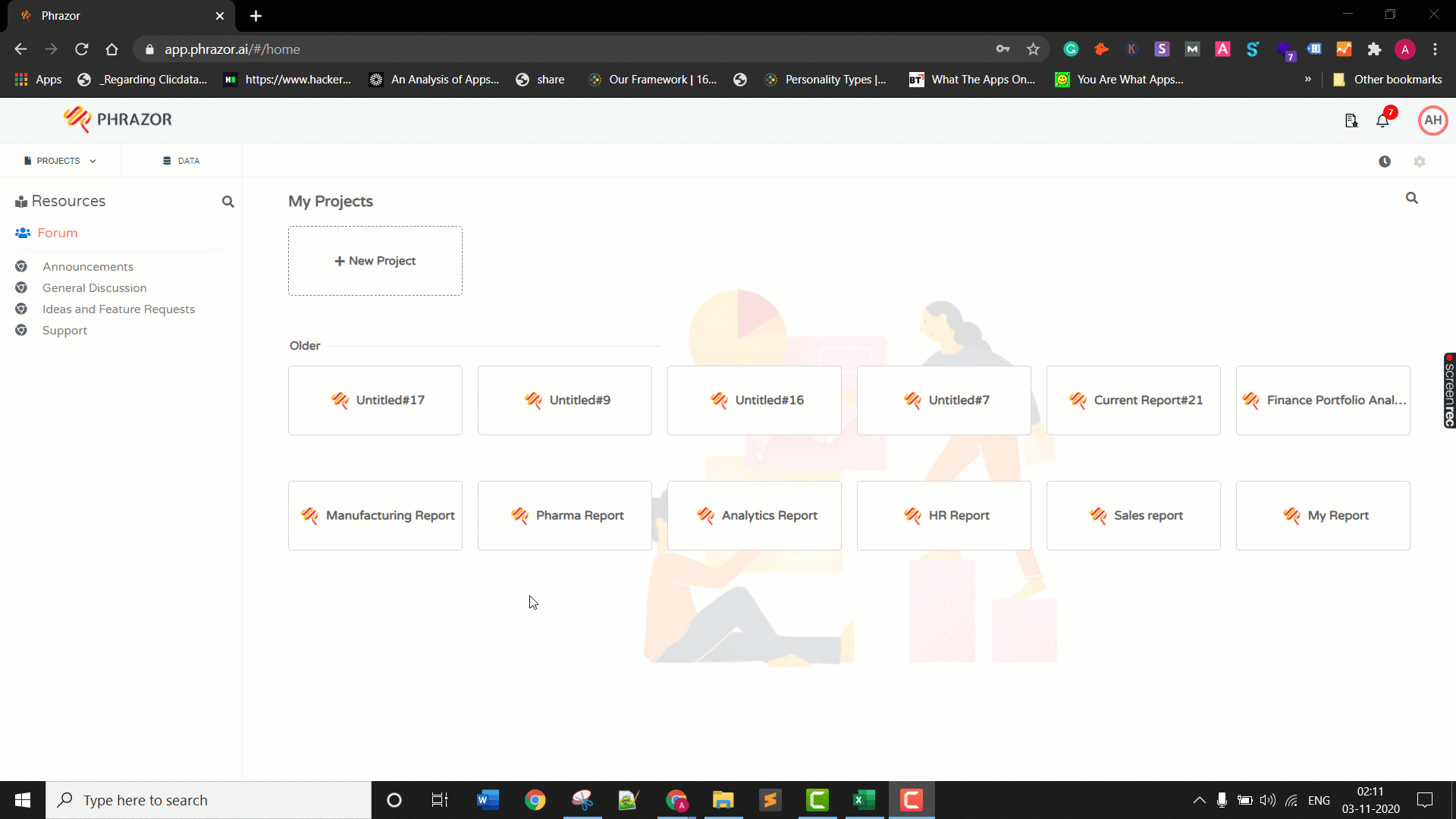 5. Intelligent Search Feature
Discover insights at a granular level by asking questions to your data and getting personalized and relevant insights in real-time.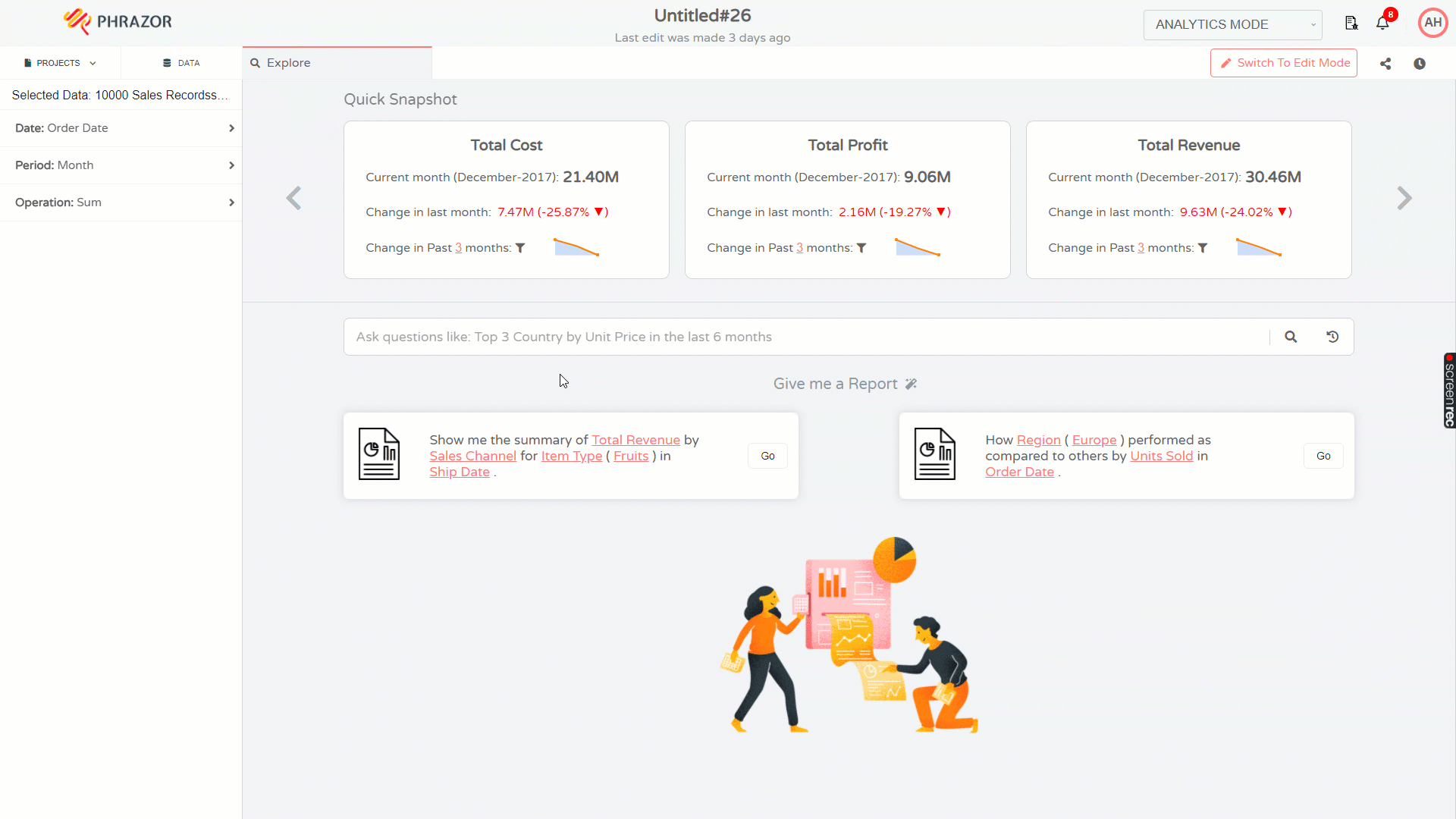 6. Drilldown
Uncover hidden trends in data by drilling down into the root cause and find reasons and factors that impact your business KPIs.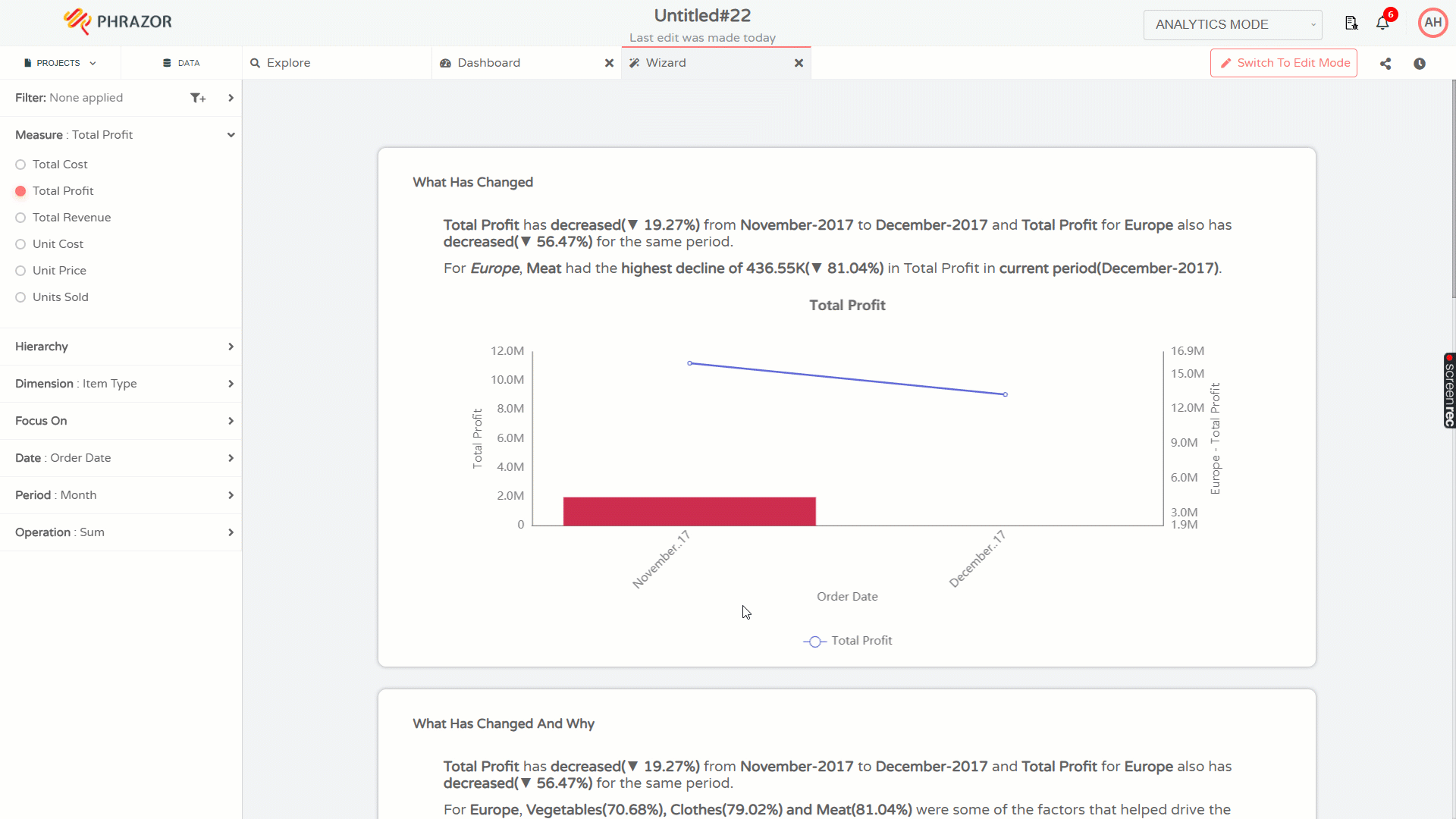 7. Collaborate and Share Reports
Make remote work convenient by collaborating with your teams in real-time with features to comment, assign, and tag users within the dashboard.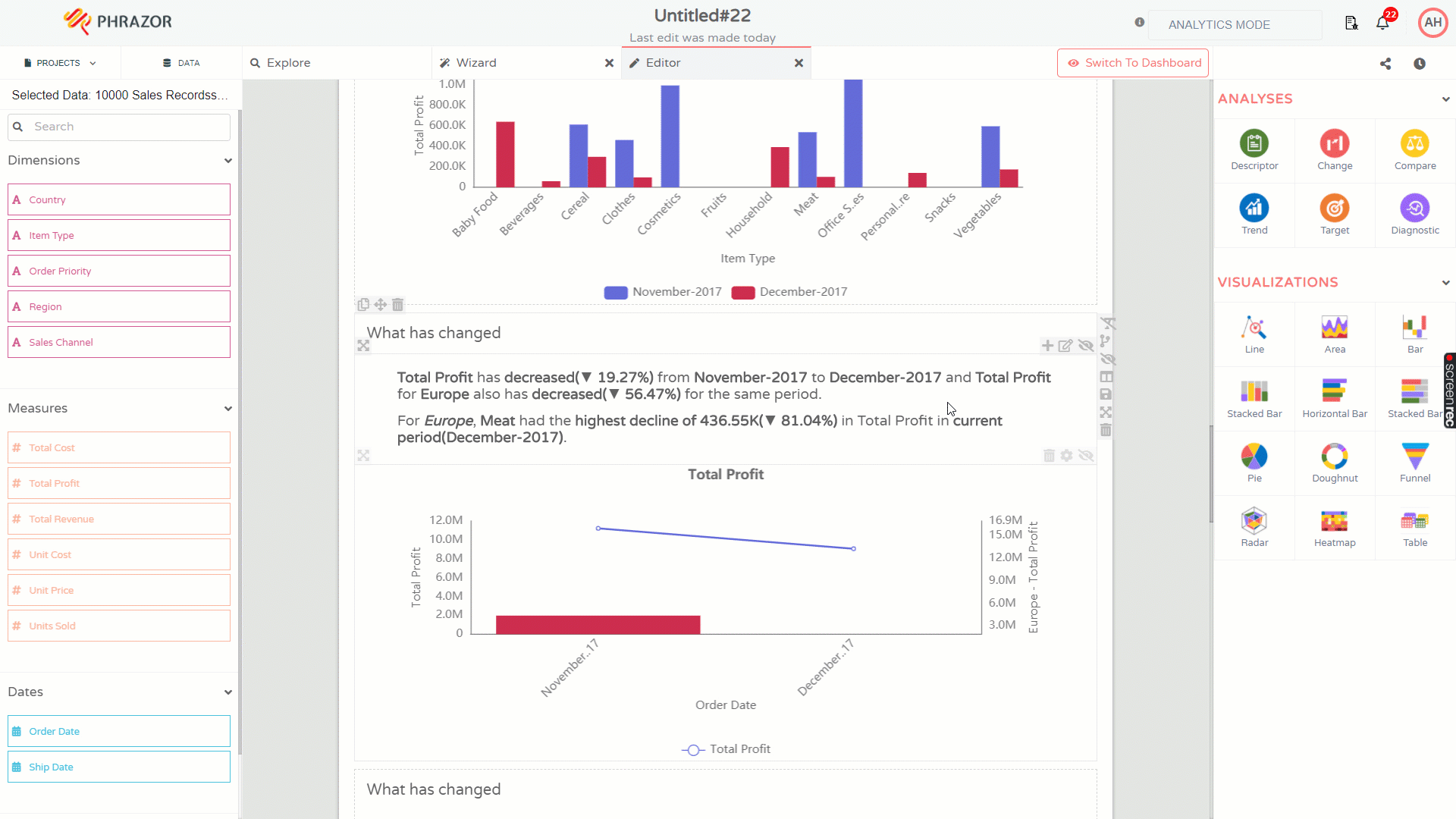 8. User-friendly Dashboards
Create your very own dashboard based on your functional and industry requirements with a drag and drop interface and pre-built analytical functions.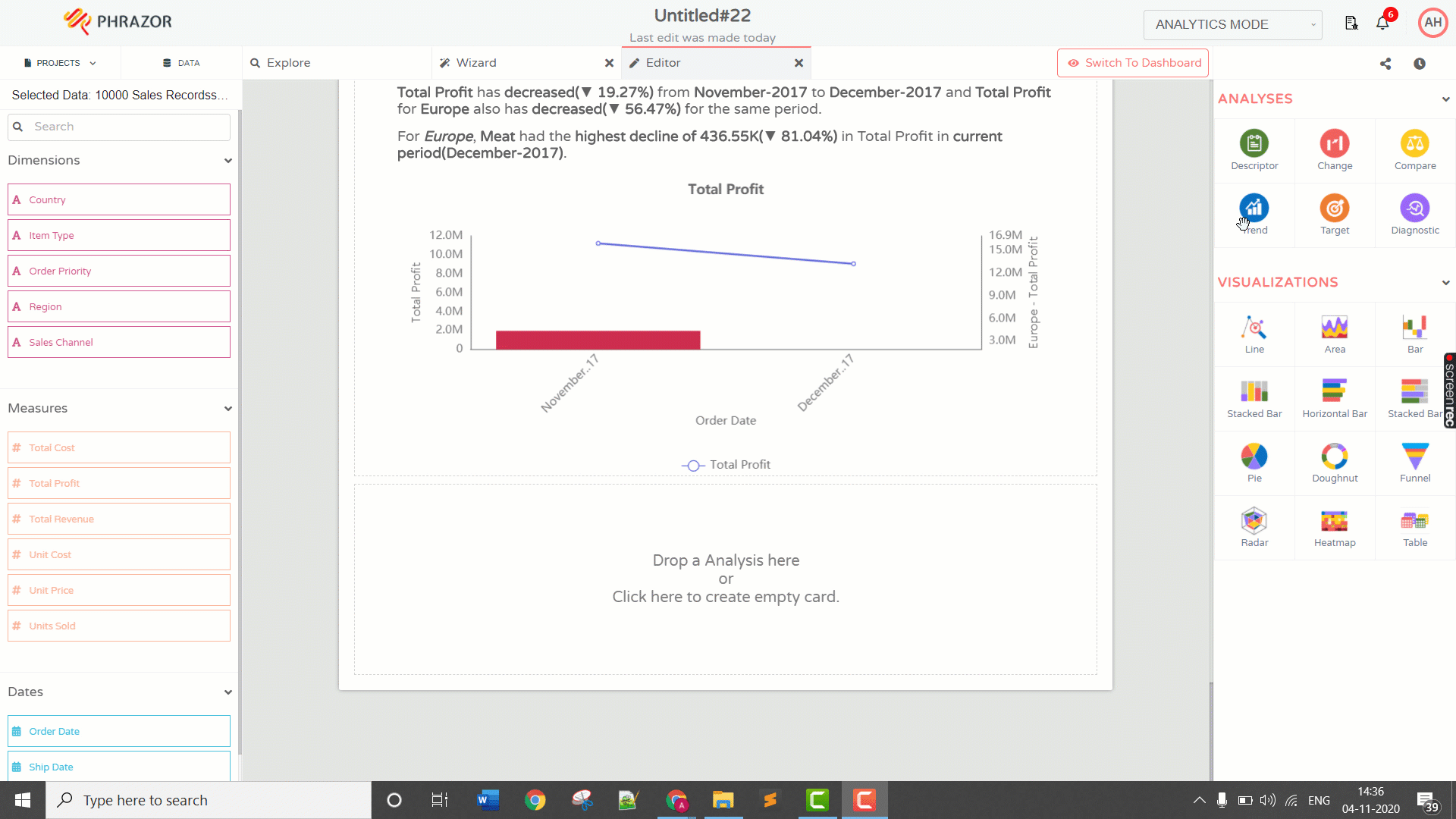 9. Multilingual Support
Get customized insights and visuals compiled in a report in multiple languages, to match your reporting needs.
These features lead to the following business benefits:
Connect to multiple data sources, without assistance from an IT team
Save time and costs of data analysis and report generation
Make data-driven decisions at the speed of thought
Discover granular insights and uncover hidden trends
Choose from a range of templates to generate highly customizable reports
Applications of Phrazor Across Industries and Functions
From creating compelling data stories with actionable insights to exploring hidden trends and patterns in data, Phrazor supports a wide range of industries and business functions to get deeper insights out of their business data.
Check out a few examples of Phrazor live in action.
Industries
Business Functions
To know more about the product and to try it for yourself,