Don't Ask Your IT Team, Ask Your Data - Dashboard Conversation Interface for Business Users
Analysts create dashboards with one intent: to aid business leaders in making fact-based decisions. The constraints are thus: it may happen that business users require some information that has not been captured on dashboards. It may also (and it does) happen that the answer to any query posed by management will set a BIG wheel into motion, where the technical team accepts the query, gets round to working on it, and finally delivers. Business users well-acquainted with this cumbersome process may decide not to ask the queries in the first place.
Business users, cut out the loop - Learn how to analyze data yourself in 15 mins
Not that anyone is at fault, though. It's just become the nature of things. If you are a business user and want relevant information at your fingertips, you have to wait for it. Time-based decisions go out the window. If you don't ask, you are left where you were - wanting data to give you actionable insights to help you in optimal decision-making.
An overlooked aspect in all of this is the exhaustion of the productivity of highly talented tech-based human resources. Instead of spending time researching and analyzing data, they are often left conducting operational tasks - ad-hoc analysis, that they could not wish more ardently to be swept off of their table.
What if business users could perform such analyses themselves? What if they could extract their required answers from within the data instantly? Surely, then, dashboards would provide real value, and bland data would transform into result-churning insights.
Introducing Conversational Analytics.
Conversational analytics, or Conversational BI dashboards, consist of a machine or a tool understanding typed speech. Of course, there is a type of conversational analytics that understands voice speech, for example, the famous Siri by Apple, but that is not in the scope of this discussion. For conversational analytics platforms for dashboards, think along the lines of your typical customer support chatbot, but think beyond it. We are talking about understanding data context, the whys, the hows, and the what's next of it through the conversational analytics platform.
The World Of Data Analysis has Evolved...
The first generation of dashboards was just good enough to illustrate a company's general performance. As opposed to its predecessor, the second generation of dashboards put greater emphasis on functionality over appearance. Although it seems like a simple enough step, this shift from appearance to functionality remains one of the building blocks of the modern-day dashboard. The market of data storytellers today prefer tools like Tableau, Google Charts, Grafana, Power BI, Qlikview to both: present data beautifully through visuals + deliver value by focusing on multiple key metrics and assisting dive-down into the data. Consider Tableau as an example. It uses advanced visualizations like motion charts, bullet charts, treemaps, box-plots in addition to the basic pie charts and histogram views. This is a great leap from the traditional Excel format wherein:
a. Created reports are difficult for business users (users who are from a managerial background and who might not be that data-savvy) to analyze and spot essential insights.
b. Surfacing hidden insights is highly improbable, and further, the dashboard narrative, instead of delivering forward-looking insights that are actionable, is majorly backward-looking, i.e. reflecting on the time frame that has already passed
c. The dashboards do not possess the capability to store all historical data, which means that crucial data is deleted
d. And finally, is highly inconvenient and time-consuming to operate upon
Still, Much Development Remains
As is often the case with everything called technology, dashboards too are only as good as the people using them. The common mistake most dashboard creators make is focusing on the set of metrics they think are important for decision-making. Even with modern data analysis techniques and tools at disposal, the gap between what is required and what is produced longs to be bridged. A 2020 Gartner research conducted on 415 analytics practitioners and marketing leaders revealed that more than half of CMOs opine that analytics platforms perform below their expectations in terms of the impact marketing analytics has on their decisions. 54% expressed disappointment, and an additional 19% were on the fence about it. Only 27%, a quarter, felt that the analytics delivered.
The mistake businesses make is to waste the tremendous talent pool of data experts they have at their disposal. Making them create dashboards that serve no particular purpose, rather, no productive purpose. Time, effort, and talent wastage, and the illusion of substantial work being executed is passed most covertly under the guise of dashboard creation.
How does Conversational Analytics fit into all of this?
Simply put, it's the next step. Conversational analytics on dashboards for business users means they can conduct queries and ad-hoc queries on dashboards in real-time, without the need to revert to tech-based teams and wait for days or weeks for reverts. When business users understand data through conversational BI, they also validate, or culminate, the work of report creators who prepare exhaustive dashboards to facilitate decision-making for them. It justifies the cost of investment on the tools being used currently, and the monetary value of the human effort going in report creation. Conversational analytics is nothing but the last few steps of a marathon; you've already done great without it, but if you want to complete the race, you have to take the last few steps.
Ask Phrazor - A Solid Example of a Conversational Analytics Platform
"Ask Phrazor" has been developed by vPhrase Analytics and is a part of their double-patented product Phrazor. Ask Phrazor offers some functionalities that are not available anywhere else in the market. Designed keeping business users in mind, here's what it is in the offering:
1. The Ask Phrazor conversational chatbot generates real-time answers to every question one inputs. The language-based answers make data understanding and spot decision-making extremely easy for managers
2. It allows every user to perform completely independent querying and analysis. Managers can study data, conduct drill-down, conduct ad-hoc analysis, etc. on their own
3. Ask Phrazor supports automatic instead of manual drill-down to find related insights from data. It fetches hidden insights from data that is buried deep within your org's data warehouse, and explains data context through it
4. Ask Phrazor's query system is unique: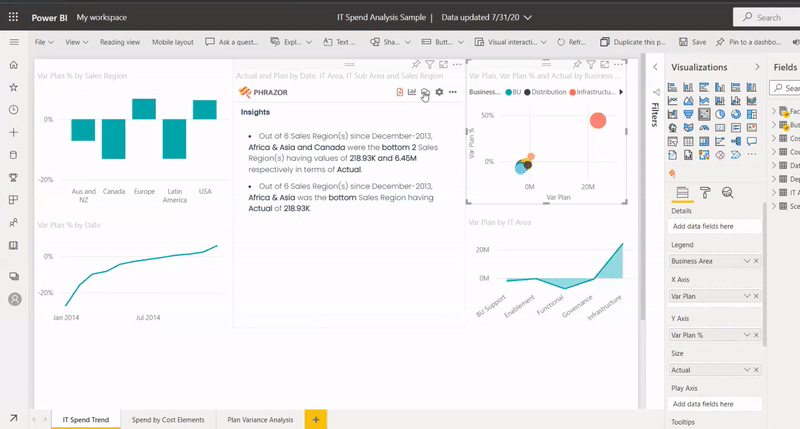 a. It understands 'human' queries. Searches no longer need to be based on system-specific keywords, so users can type in the questions in a natural manner and still receive output
b. The query recommendation is intuitive. It learns from the question asked and suggests other relevant questions
c. It also enables query on data stored across the org - quick answers in language are propped for questions asked on complex data
d. Ability for live querying, or, in other words, querying on the latest data coming in, for instant, data-backed decisions
5. Ask Phrazor learns your business jargon and concepts and uses them in queries, allowing you to define your own KPI
6. With just a click, you can pin your generated insights + the accompanying visualizations to your dashboard
7. Through Ask Phrazor, teams can collaborate through a chat type interface provided and can also view previously asked queries in the project
If you want to view Ask Phrazor in action, our solutions experts are always available for you. Contact us for a quick demo and we will explain how Phrazor is applicable to your industry and use-case.